Description
OZONE EDGE V10 KITE
---
THE EDGE IS A TRUE SPECIALTY, IT DELIVERS A MIND-BENDING FREE RIDE AND BIG AIR EXPERIENCE WHILE AT THE SAME TIME HAS ALL THE SPEED, POWER AND PERFORMANCE REQUIRED TO WIN WORLD AND OLYMPIC TITLES ON THE RACECOURSE. THE EDGE, AS THE NAME SUGGESTS, HAS LONG PROVEN ITSELF AT THE FOREFRONT OF THE INFLATABLE KITE PERFORMANCE SECTOR.
If you want to ride fast, send it for massive air and hang time to reach altitudes reserved only for the gods the Edge is for you. Even though it can be seen winning podiums and floats riders high above the water, don't be afraid, this is a user-friendly powerhouse that anyone can handle. Easy to access performance comes naturally through this super-charged free ride kite, it is an explosive high adrenaline machine that will leave you in withdrawal after every session.
Now reaching its 10th version milestone, the Edge is as popular as ever and has been meticulously revised to take you beyond. The Edge V10 is incredibly smooth in the air thanks to refined profile sections and a new wing tip shape. The canopy has increased support and maintains form even in gusty conditions.
The handling reaction time has been improved, it drives faster through turns making it easier to send it big and maximise satisfaction from your free ride sessions. The bar feeling is smoother and more progressive on the back lines as the kite transitions through angle of attack range, helping during take off to perfectly time your jumps.
On the SNOW! Yes that's right, the Edge V10 is possibly the best inflatable kite in existence for taking advantage of the cold white stuff. It's got speed, power, and the best attribute is how easily you can get air – all you have to do is gain speed, edge hard and send it
SIZES
5 / 6 / 7 / 8 / 9 / 10 / 11 / 13 / 15 / 17 / 19
RANGE OF USE
WIND RANGE AND BAR SIZE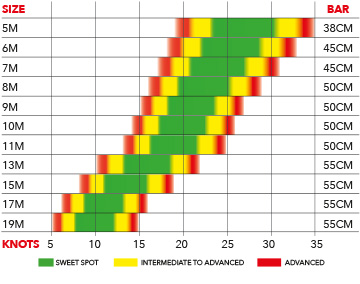 Wind range is indicative only based on an average rider weight of 80kg. Actual range will vary based on rider skill level and type of board used.